Is there any party that's as fun as a holiday party? The décor, the people, the ambience, the wine! It's all part of the best time of the year, and we're so excited it's finally here. And if you haven't noticed, we really love a good party. But, we're also busy and understand that not everyone has the time to throw a lavish holiday event and all that goes with it. So we're sharing our best tried + true holiday entertaining hacks alongside our friends JaM Cellars, so you can throw the ultimate holiday party this year.
We're so excited to partner with JaM Cellars on this post, because the company is the ultimate depiction of fun and style. We love the creaminess of the Butter Chardonnay, a universal crowd-pleaser, and it was definitely the star of our holiday party. Keep a variety on hand for your next holiday party with its luscious JaM Cabernet, California Candy Dry Rosé and Toast Brut Sparkling! What makes them even more yummy, they're easy to find in the wine aisle and mostly under $20! Just head to your local grocery or enter your zip here to find a store nearest you.
Keep it colorful + fun
No one wants to go to a stuffy, conservative holiday party. Keep it light by incorporating fun, colorful décor and lots of holiday sparkle. Instead of matching glassware, mix it up! We snagged ours from thrift stores, swap meets, personal stashes, etc. It makes the look a lot more eclectic and fun, rather than overly styled. Plus, you get all the pretty glassware for your favorite bottle of JaM Cellars wine!
Hit the farmers' market
Styled florals and food are pricey and overdone. We like to hit the farmers' market the day before the party to stock up on local breads, snacks and produce. While you're there, be sure to snag a few bunches of your favorite florals. Making your own DIY arrangements is such a fun holiday activity. We made ours using our farmers' market bunches, and then used empty JaM Cellars wine bottles as vases for single buds. Might as well put those empty bottles to good use after you've finished up all the delicious Butter Chardonnay!
Make memories
Create a photobooth with a Polaroid and some cute props. You can even set up a station with markers, stickers, etc. where your guests can turn their Polaroids into Christmas cards. We found a fun and glitzy gold fringe "curtain" for our photo backdrop and it worked perfectly. It was almost the same color as our glasses of Butter Chardonnay, which made it even more fun.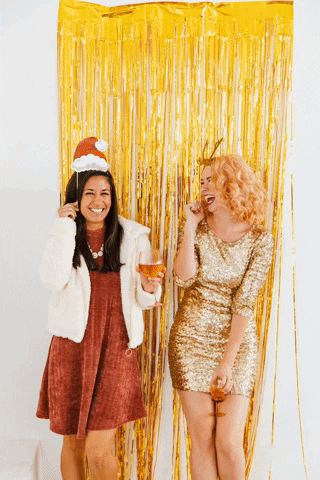 Get festive together
Why do all the work of decorating all by yourself? Make decorating the Christmas tree a part of your entertainment! Put out a box of decorations or encourage your guests to bring one they love and decorate the tree together. Make sure to grab a glass of lush JaM Cabernet as you admire your beautiful handiwork.
Play "DJ"
Invite your friends and guests to play DJ for the night. Encourage everyone to bring their favorite holiday record and take turns spinning those tunes. I personally brought my fav, Run DMC Christmas in Hollis, which was a super fun spin on classic holiday tunes. It definitely made for some fun dance parties!
Get creative with Secret Santa
No one needs another pair of socks or a coffee mug. But delicious wine is always a hit. We love giving JaM Cellars canned wine as Secret Santa gifts. Whether you're a fan of creamy, bold Butter Chardonnay or the mouth-wateringly fresh crisp of California Candy Dry Rosé, you can't go wrong with a gift of ButterCans or CandyCans. If you want to get creative, try raffling off a stash of ButterCans and CandyCans with lottery tickets! Even better, use all those holiday records for an epic dance off. Winner gets their choice of wine to take home!
Bring on the entertainment
In addition to traditional holiday activities like Secret Santa, bring out the party games! Classic board games and decks of cards are a really fun and easy way to mix and mingle using things you probably already have at home. Plus, these kind of games don't make anything feel forced. If your guests want to break one out and play, great! If not, they can mix and mingle with a glass of California Candy in hand. 
Always have a parting gift
Don't let your guests leave empty-handed! Send your guests on their way with ButterCans or CandyCans! If you're more of a DIY type, make cute gift bags with the names of your guests, and make sure everyone gets a bottle of their favorite JaM Cellars wine on the way out the door.
Holiday entertaining doesn't have to be stressful. Let the good wine and the good company do all the work. With a few simple entertaining hacks, you'll be Hostess of the Year in no time!
Looking for more ways to stress less and merry more this holiday season? JaM Cellars is hosting 25 Days to Sip, JaM and Win! Gifts, sip-prizes, holiday hacks, discounts and more—all just for you. Follow @JaMCellars on Facebook and Instagram, sign up for The Scoop and check in daily starting Dec. 1 to learn how to win.
This post was sponsored by JaM Cellars, but all opinions are our own. Thank you for supporting brands that support us!